I can now elaborate on the reason I haven't been sewing much lately. We have been house hunting...looking for a smaller home that will fit our current budget. Finally after several months of looking we made an offer and it was accepted. Closing is the end of next month. The house needs a little work and most of it can be done after moving in as we get the funds. We would like to eventually replace carpet with laminate and kitchen needs a makeover. Some painting will be done before moving in. The master bedroom is currently lavender, a definite no no(especially as far as Bill is concerned). I'm thinking a sandy beige. The room I'm not sure about is the family room. It is currently red. There is a beautiful stone fireplace and we think the red walls take away from it. I was thinking a chocolate brown but Bill wants a little lighter like maybe mocha brown. Not sure what to do with the windows on either side of the fireplace. The previous owner had half of a priscilla curtain on each....not really my taste. I have a nice valence on the front window in my home now and might see how they look. It would save some expense and we would like to do that as much as possible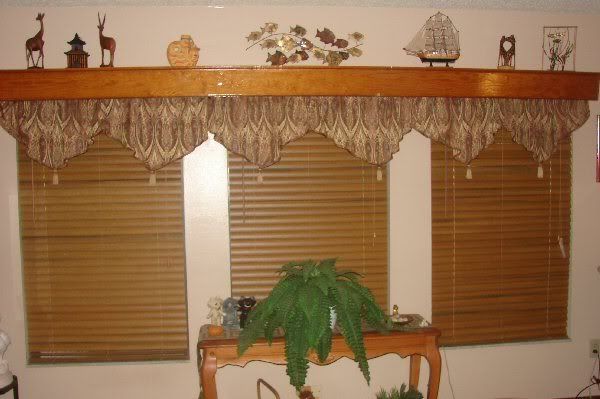 Each pointed piece is a separate piece so I can divide them between two window. Just not sure if they will look right. I will have a bay window in the living room in the front of the house I will have to figure out too.Don't know yet if the brown blinds are going...haven't measured the windows in the new house yet. Down sizing means each of the bedrooms will only have 1 window instead of the 2 in each in our current home.
This will mean a big change for Lexi and Lucy too. Currently they have a doggie dog that fits in the sliding door. The new house has french doors, which means they will have to ask to go out, something they haven't had to do for 5 years.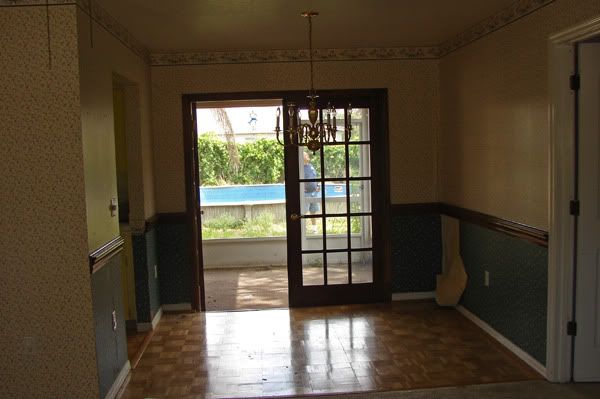 As you can see the wallpaper is coming down. Don't like wallpaper anyway but I have never had to take it down before, hopefully it won't be too difficult.
Well, we are looking at this move as another adventure...after all isn't that what life is...one adventure after another.