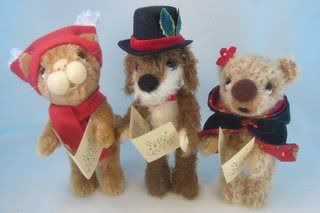 I'm getting there. Most of my Christmas critters were finished by September. "Here we come a caroling" appears in the latest issue of Teddy Bear & Friends. There is a feature depicting Christmas Carols represented by artist bears. The dog appeared in the magazine without his top hat because the editor didn't see it in the box when they were sent to the magazine for photos. I kinda think his hat is the finishing touch. The set will be for sale on my website later today.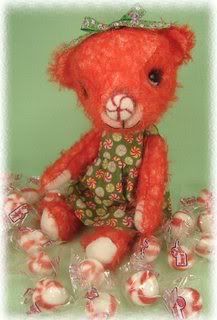 Patti is minty sweet. Look for her on Bid 4 Bears this afternoon. She is made with sparse mohair that has been dyed with cherry Kool aid. The mint print fabric I used to make her dress is actually what inspired me.
Are you in the Christmas spirit yet? I'm getting there!