Well I did a little experimenting this time. Trying to get a light peach was a little more difficult than expected. After doing some research, mixing yellow and pink seemed to be the best way to get the color I wanted. Using saved white scraps, I kept adding color, timing how long each piece was in the bath. Then I decided it was too yellow, so after removing several cups of the dye bath I added water back in and some more pink. My results were actually brighter than I originally wanted but I think it will turn out alright. These pieces will be used to make a Panda.
Then it was time for purple! The piece on the right started off as a cream color as opposed to white. It turned out a nice shade of lavender. The other piece was a sparse matted white. I added a little brown to the dye bath because I was trying to achieve a more vintage look. We'll see. Of course the little squares were white wool felt thrown into the dye bath so they match.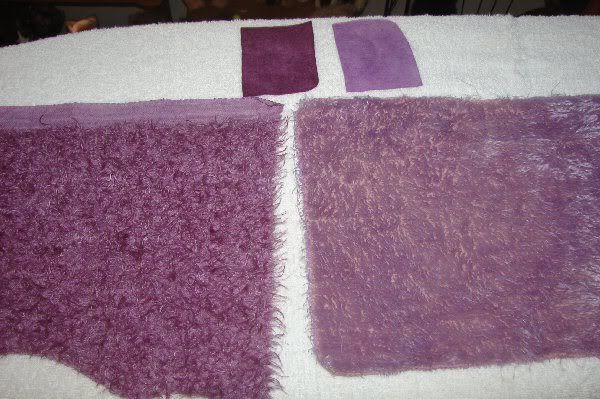 I also did a little tea dying to a cotton print to age it a bit. Now it's time to go dye my roots. I still think I'm too young to be gray!